Altiva Software Participated in the Florida Local Users Group Training Event
July 1, 2013 (Houston, TX) — Altiva Software once again participated in the Spring FLORIDA LOCAL USERS' GROUP, INC. (FLUG) Conference, which was held June 26-28th, 2013 in Cape Canaveral, Florida. Altiva Software demonstrated CADconform, its flagship software product that promotes and enforces 100% conformance to CAD standards.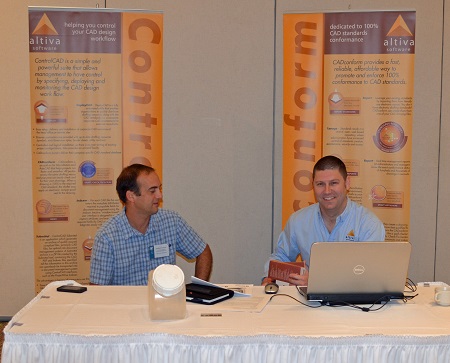 Altiva gave a presentation as part of the conference program. The session by Product Support Manager Matthew Tolmie focused on solutions to problems encountered while helping clients verify their deliverables to the Army Corp of Engineers. Whether it was a project using AutoCAD but the deliverable was MicroStation DGN files or even when using Revit and the deliverable must be regular DWG files, Altiva has helped many AE firms with customized workspaces and technology to assure CAD standard compliant drawings to submit to their clients.
Door prizes were given away during hospitality night and Altiva awarded a $50 gift certificate to Julian Poole of DRMP, Inc.
To learn more about the spring and fall FLUG Conferences, please visit their website:
http://www.flugsite.com
Contact Altiva to learn more about CAD Standard workspaces for the USACE: www.altivasoft.com
Marie Franklyn
Business Development Manager
2434 Riverway Oak Dr
Kingwood, TX 77345
Office: (281) 295-2250
Fax: (832) 201-0462
mfranklyn@altivasoft.com
CADconform is a registered trademark of Altiva Software, Inc. AutoCAD is a registered trademark of Autodesk, Inc. MicroStation is a registered trademark of Bentley Systems, Inc.