Kansas DOT employees receive recognition as "An Example of Excellence" for implementing CADconform to improve process with plans
August 16, 2011 (Houston, TX) — The following article is reprinted from Kansas Department of Transportation's July newsletter "Translines".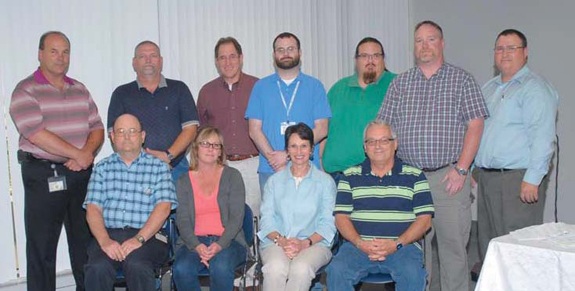 Secretary Deb Miller (front row, second from right), is pictured with members of the CADconform team.
New tools improve process with plans
By Kim Stich
A new set of tools that will assure electronic drawings comply with established graphic standards was the goal of the CADconform team.
The team members were recognized for their efforts as an Example of Excellence for the first quarter of 2011. Secretary Miller attended the ceremony on May 24 in Topeka.
"The CADconform software implementation is important to KDOT. This will improve plan quality as well as make our electronic plan archive usable for a longer period of time," said Jim Kowach, Bureau Chief of Design. "This project represents the culmination of all the hard work that went into establishing uniform graphic standards to be used on plans by all the different groups within KDOT as well as our design consultants."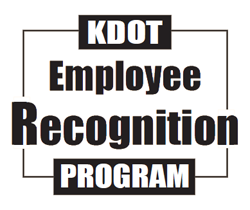 This suite of tools, available for internal and external uses, also allows the user to populate database attributes for a drawing, without requiring access to KDOT's database. The data is then sent with the drawing for inclusion into KDOT's ProjectWise database, Kowach said. Providing consistent data also makes checking, storing, retrieving and reusing CADD plan files faster and more reliable.
"This project was especially notable since staff from three KDOT bureaus were involved in its success," Kowach said. "The group did a great job of working together and keeping the overall goal in mind while implementing this tool."
Team members include Randy Ackley, Gary Cox, Mike Dillner, Rex Kraus, Scott Marquis, Jonathan Mushock, Mark Segelquist and Ron Shurtz.
Do you know of a KDOT group, team, unit, or office that has gone above the call of duty? Then nominate them for the Example of Excellence award. All KDOT employees are encouraged to suggest ideas and can now fill out Form DOT 1204. Once it is filled out, the nomination is then sent to the selected Division Director, Bureau Chief, District Engineer, Area Engineer, or Subarea Supervisor who can then sign the form and submit the nomination to Transportation Information.
Hard copies of the form are still available by calling Transportation Information at 785-296-3585 and require the signature of one of the supervisors listed above.
The award is given quarterly with nominations for the second quarter due to the Bureau of Transportation Information by June 30. Nominations for the third quarter are due Sept. 30.
About CADconform and Altiva Software
CADconform® is a software add-on that works seamlessly between AutoCAD® and MicroStation® to promote and enforce 100% conformance to CAD standards. It is the only product of its kind that provides an encrypted, tamper-proof electronic seal ensuring data integrity and user confidence.
Properly enforced CAD standards provide strategic business value including: re-use of intellectual property stored in drawings, better interoperability and project management, and significant cost-savings and contributions to HS&E.
Altiva Software is the only company dedicated to 100% conformance to CAD standards. It is headquartered in Houston, Texas, with offices in Germany and Australia.
Visit us on the web at www.altivasoft.com.
Contact:
Marie Franklyn
Business Development Manager
2434 Riverway Oak Dr
Kingwood, TX 77345
Office: (281) 295-2250
Fax: (832) 201-0462
mfranklyn@altivasoft.com
CADconform is a registered trademark of Altiva Software, Inc. AutoCAD is a registered trademark of Autodesk, Inc. MicroStation is a registered trademark of Bentley Systems, Inc.