Meet Dragan Dulovic, Senior Developer for Altiva Software
April 15, 2010 (Houston, TX) — Third in a series of "Meet the Staff", Altiva Software would like to introduce Dragan Dulovic as Senior Developer and supervisor of the Serbian development team. Dragan is responsible for the long-term planning and development of CADconform® for AutoCAD, Altiva's software product that promotes and enforces 100% conformance to CAD standards for both MicroStation® and AutoCAD®. He manages day-to-day development operations for his team of five programmers and the technical support call center for Europe, UAE and Asia.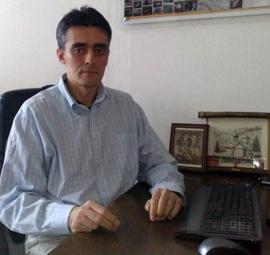 Dragan Dulovic was born in Serbia and in 1995 he obtained a BSc degree in Electrical Engineering at the University of Belgrade, Faculty of Electrical Engineering. After completing his mandatory Army obligation, he went to work for US and European software companies such as Serbia Telecom and AgriLivestock Consultants, a British company working on EU funded projects for governments in Eastern Europe. His area of expertise includes C++, .NET technology, Java and SQL Server.
"Dragan's background in software engineering and architecture and his experience in product development make him an excellent candidate to create the vision for CADconform going forward," said Altiva Software CEO Harry Hvistendahl. "In addition, his hands-on development and management experience will help to further optimize our development operations."
Dragan joined Altiva Software in 2007. Hiking and visiting ancient churches are his favorite hobbies. He currently lives in southern Serbia.
About CADconform and Altiva Software
CADconform® is a software add-on that works seamlessly between AutoCAD® and MicroStation® to promote and enforce 100% conformance to CAD standards. It is the only product of its kind that provides an encrypted, tamper-proof electronic seal ensuring data integrity and user confidence.
Properly enforced CAD standards provide strategic business value including: re-use of intellectual property stored in drawings, better interoperability and project management, and significant cost-savings and contributions to HS&E.
Altiva Software is the only company dedicated to 100% conformance to CAD standards. It is headquartered in Houston, Texas, with offices in Germany and Australia.
Visit us on the web at www.altivasoft.com.
Contact:
Marie Franklyn
Business Development Manager
2434 Riverway Oak Dr
Kingwood, TX 77345
Office: (281) 295-2250
Fax: (832) 201-0462
mfranklyn@altivasoft.com
CADconform is a registered trademark of Altiva Software, Inc. AutoCAD is a registered trademark of Autodesk, Inc. MicroStation is a registered trademark of Bentley Systems, Inc.