Altiva Software Announces Winner of Laptop Computer at BE Conference 2007
May 11, 2007 (Houston, TX) — Altiva Software is pleased to announce that Chris Curow of Southern Company Generation is the lucky winner of its laptop drawing held at BE (Bentley Empowered) 2007.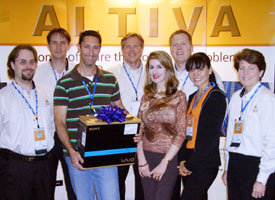 This is Altiva's third laptop giveaway and it continues to add excitement and be well received with the computer-savvy professionals attending these conferences. The BE Conference, Bentley System's premiere education and networking event, was held April 29 - May 2 at the LA Convention Center, drawing some 1500 attendees this year.
Thirty percent of those attendees registered for the chance to win the state-of-the art Sony VIAO laptop which features an Intel Dual-Core processor, 1 GB of memory, 80 GB SATA hard drive, 15.4" WXGA widescreen, built-in wireless, and Windows Vista Premium. To register for a chance to win, people only had to stop by the Altiva Software booth and complete a brief CAD standards survey with an Altiva representative.
Chris was contacted on his cell phone at the show and informed that he had won, so he was able to take his new laptop home with him.
"I haven't attended a conference since 1998 and the Altiva Software giveaway was the only one I signed up for," exclaimed the happy winner. Chris went on to explain, now that he has a new laptop, his current laptop will be passed on to his son and they will retire his son's aging desktop system.
Chris lives and works in Birmingham, Alabama. He is a project engineer at Southern Company, an Atlanta-based power-generation company serving 4.3 million customers with more than 42,000 megawatts of generating capacity in the southeast U.S. (http://www.southerncompany.com).
"We are pleased that these laptop-giveaways generate so much excitement and delighted for the opportunity to talk with people about the tremendous business value of CAD standards conformance and CADconform," said Altiva Software CEO Philip Hurlston. "We were also thrilled to announce at the conference that CADconform now fully supports MicroStation V8 XM edition." (See related press release)
About CADconform and Altiva Software
CADconform® is a software add-on that works seamlessly between AutoCAD® and MicroStation® to promote and enforce 100% conformance to CAD standards. It is the only product of its kind that provides an encrypted, tamper-proof electronic seal ensuring data integrity and user confidence.
Properly enforced CAD standards provide strategic business value including: re-use of intellectual property stored in drawings, better interoperability and project management, and significant cost-savings and contributions to HS&E.
Altiva Software is the only company dedicated to 100% conformance to CAD standards. It is headquartered in Houston, Texas, with offices in Germany and Australia.
Visit us on the web at www.altivasoft.com.
Contact:
Marie Franklyn
Business Development Manager
2434 Riverway Oak Dr
Kingwood, TX 77345
Office: (281) 295-2250
Fax: (832) 201-0462
mfranklyn@altivasoft.com
CADconform is a registered trademark of Altiva Software, Inc. AutoCAD is a registered trademark of Autodesk, Inc. MicroStation is a registered trademark of Bentley Systems, Inc.