Altiva Announces Winner of Laptop Computer at daratechPLANT2007
January 31, 2007 (Houston, TX) — Altiva Software is pleased to announce that Derek Shemavonian, of Atomic Energy of Canada Limited (AECL), is the lucky winner of the firm's laptop drawing held at daratechPLANT2007.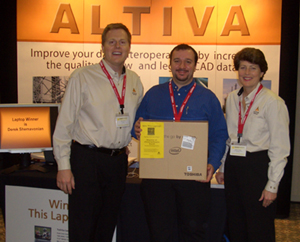 The daratechPLANT2007 conference was held in Houston, Texas, at the Wyndham Greenspoint Hotel, January 29-31, 2007. Altiva Software was selected to be showcased in the Emerging Technology Pavilion of this annual conference for power and process executives, an award that Altiva was proud to receive. Daratech received nominations for this award throughout the year and selects the top companies with new and innovative technology and solutions for plant creation, operations and maintenance.
Altiva wanted to contribute something special to the event, and the laptop giveaway was well received. Attendees were happy to fill out a brief survey for a chance to win a Toshiba Satellite A105, a state-of-the-art, Intel Core 2 Duo laptop computer.
The lucky winner was thrilled at the news. "I'm not the type of person who wins anything, so I wasn't even going to enter my name in the drawing until my colleagues all decided to do so," says Derek Shemavonian. "When they found out that I won, as you can imagine, I had many offers to help carry it home."
Derek is the Manager of ACR Module Engineering Integration at AECL, a leading-edge nuclear technology and services company in Canada providing services to utilities worldwide. Over 4,000 highly skilled employees enthusiastically deliver a range of nuclear services from R&D support, construction management, design and engineering, to specialized technology, waste management and decommissioning in support of CANDU reactor products.
"The laptop give-away was a great success again," says Altiva CEO Philip Hurlston. "It really contributed to the atmosphere of the show and was a great way to attract attention to Altiva's CADconform solution that addresses the important issue of data interoperability; a problem that costs the industry ten billion dollars a year."
About daratechPLANT2007 and Daratech, Inc.
The daratechPLANT2007 conference is a proactive forum for industry leaders to come together and brainstorm the plethora of challenges facing the plant industry today. This is a time of unprecedented growth for owner/operators (O/O) and engineering, procurement and construction companies (EPC), driven by increased global demand for oil and gas and the building of infrastructure and facilities required to support exploration, production, refining and power generation. However, the growth is threatened by a global shortage of qualified engineers to perform the work. To meet the challenges caused by increased demand and an engineering shortage, O/Os and EPCs must identify and apply innovative technologies that allow them to gain the most efficiency and cost-savings from their processes, and where possible, transform their processes completely.
Daratech, Inc. is a leading provider of information technology market research and technology assessment, advisory and strategic consulting services, and executive-level conferences for manufacturing, engineering, construction, and plant operations. Established in 1979, Daratech specializes in PLM, CAD/CAM, digital product simulation (CAE), PDM/EDM, AECO PLM (architecture, engineering, construction, and operations, for plant lifecycle management), document/enterprise content management, GIS and related areas.
For more information, see www.daratech.com and www.daratech.com/plant2007/.
About CADconform and Altiva Software
CADconform® is a software add-on that works seamlessly between AutoCAD® and MicroStation® to promote and enforce 100% conformance to CAD standards. It is the only product of its kind that provides an encrypted, tamper-proof electronic seal ensuring data integrity and user confidence.
Properly enforced CAD standards provide strategic business value including: re-use of intellectual property stored in drawings, better interoperability and project management, and significant cost-savings and contributions to HS&E.
Altiva Software is the only company dedicated to 100% conformance to CAD standards. It is headquartered in Houston, Texas, with offices in Germany and Australia.
Visit us on the web at www.altivasoft.com.
Contact:
Marie Franklyn
Business Development Manager
2434 Riverway Oak Dr
Kingwood, TX 77345
Office: (281) 295-2250
Fax: (832) 201-0462
mfranklyn@altivasoft.com
CADconform is a registered trademark of Altiva Software, Inc. AutoCAD is a registered trademark of Autodesk, Inc. MicroStation is a registered trademark of Bentley Systems, Inc.