Altiva Software Announces Winner of Laptop Computer at AU 2006
December 5, 2006 (Houston, TX) — Altiva Software is pleased to announce the winner of the drawing it held at Autodesk University 2006 for the chance to win a laptop computer – Devon Reed, production manager at Sunlit Architecture of Crested Butte, Colorado.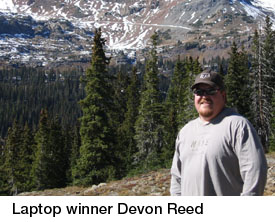 As a way of creating some additional buzz at its conference booth, Altiva held a drawing for a COMPAQ Presario 6130, a state-of-the-art, multi-media laptop computer. To register for a chance to win, conference attendees only had to complete a brief survey about their CAD standards with an Altiva representative. All completed surveys were placed in a box for a random drawing held on the last day of the conference.
Reed was notified by email on November 30 but did not receive the news until he returned to his office on Monday following the conference.
"I never win anything," exclaimed Reed. "You always see these types of giveaways at conferences, but you never seem to personally know anyone who actually wins, making you wonder if anyone ever really does win. Now I know - real people do win. This is especially great for me because my laptop is getting old."
Since August 2005, Reed, a native of Colorado, has been with Sunlit, a small, well-established architectural firm that specializes in high-end residential and resort oriented architecture (www.sunlitarchitecture.net). For the 7 years before that, he worked in the Vail area as a draftsman, then a job captain, on high-end residential and commercial resort projects.
The 14th annual Autodesk University (AU), held in Las Vegas this year, attracted some 7,500 attendees - greatly exceeding pre-conference estimates of 5,800. Altiva, an Autodesk Authorized Developer, was at the conference exhibit hall demonstrating the latest version of CADconform®, its software product that promotes and enforces 100% conformance to CAD standards. CADconform is an add-on to Autodesk's AutoCAD® software.
"The laptop drawing was very well received," said Altiva Software CEO Philip Hurlston. "While registering to win the laptop, attendees were pleased to learn that we have the most complete solution to promote and enforce conformance to CAD standards. Congratulations to our lucky winner, Devon Reed."
About CADconform and Altiva Software
CADconform® is a software add-on that works seamlessly between AutoCAD® and MicroStation® to promote and enforce 100% conformance to CAD standards. It is the only product of its kind that provides an encrypted, tamper-proof electronic seal ensuring data integrity and user confidence.
Properly enforced CAD standards provide strategic business value including: re-use of intellectual property stored in drawings, better interoperability and project management, and significant cost-savings and contributions to HS&E.
Altiva Software is the only company dedicated to 100% conformance to CAD standards. It is headquartered in Houston, Texas, with offices in Germany and Australia.
Visit us on the web at www.altivasoft.com.
Contact:
Marie Franklyn
Business Development Manager
2434 Riverway Oak Dr
Kingwood, TX 77345
Office: (281) 295-2250
Fax: (832) 201-0462
mfranklyn@altivasoft.com
CADconform is a registered trademark of Altiva Software, Inc. AutoCAD is a registered trademark of Autodesk, Inc. MicroStation is a registered trademark of Bentley Systems, Inc.