Download PDF Version
Altiva Software Releases another Enhancement to CADconform for AutoCAD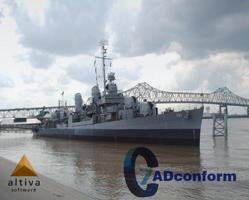 Altiva Software announced the release of the latest version of CADconform for AutoCAD, its software products that promotes and enforces 100% conformance to CAD standards. CADconform® is an add-on to AutoCAD®, among the most widely used 2D drafting software packages. Some of the new features:
Discipline Picker Module

Custom Icon support for the draft tool palette

Upgraded install package to load binaries for both 32 bit and 64 bit for mixed environments
CAD managers spend countless hours customizing workspaces to have all the tools at the drafter's fingertips. Discipline Picker Module is integral part of CADconform. It is used to quickly change/switch sets of environmental settings including:
Layers and layer filters in active file

Active profile

Active workspace

Active tool palette group
As with most of Altiva's improvements to CADconform, the custom icon support was from a customer wish list. For those large customers with a mixed environment, asks for a combined installer to place all binary files required for both the 32 bit and 64 bit machines during one installation process. Thus the latest release will take care of this requirement.
Call Altiva Software for a demonstration of the newest functionality.
Latest releases are available for download here: http://www.altivasoft.com/downloads
Next month we will be discussing the enhancements of CADconform for MicroStation V8i due May 1st.
---
Dubai Land Department hires Altiva Software to write an automated batch clean routine for legacy drawings

Altiva Software announced that the Dubai Land Department has hired Altiva Software to write custom LISP and ARX programs to help automate processes in cleaning digital data for re-use in populating the Land Department's GIS data warehouse.
The number of lands registered at the Land Department exceeds 50,000 plots all over the emirate. The process of registering real estate data is entirely computerized. All procedures related to sale, purchase, and mortgages are conducted electronically. The Land Department has left the era of manual work behind, keeping pace with advanced technology, which allows the department to provide clients with quality and time-efficient service. (www.dubailand.gov.ae)
The requirements for a custom batch clean program were sent to Altiva's development staff and two days later a beta version was delivered. Dubai Land Department was happily surprised with the immediate turnaround. With few changes and added functions, the final version was delivered within a week. Altiva Software will be the software development company of choice from now on.
Do you have a specific function to perform on the CAD drawings? Contact Altiva to investigate writing a Lisp or ARX routine to help automate the process.
---
Altiva Software to participate at the BE User Conference in the LIVE Zone


Bentley's Be Together: The Bentley User Conference will take place on May 23-26, 2011 at the Pennsylvania Convention Center, Philadelphia, Pa.
Altiva, a Bentley Synergy Developer, will be discussing and demonstrating the value of CADconform®, its software product that promotes and enforces 100% conformance to CAD standards. For more information on this event, please visit the Bentley website: www.bentley.com/en-US/Community/BE Conference
CADconform is a registered trademark of Altiva Software, Inc. AutoCAD is a registered trademark of Autodesk, Inc. MicroStation is a registered trademark of Bentley Systems, Inc.
---
---
---

Unsubscribe - Use this link to email us if you no longer wish to receive these emails.