Download PDF Version


Improving Workflow with Innovation
Businesses focusing on innovation are known to be able to demonstrate above-average success and growth. Innovation, in this context, means making continuous improvements to products and services to better serve the market.
One company pursuing such innovation is the South German nuclear electricity utility, Energie BW Kernkraft, in the area of workflow optimization in the CAD/Engineering disciplines. After successful pilot programs in both the Phillipsburg and Neckarwesthem locations, the organization's CAD standard is to be rolled out with the CADconform standards-management software.
The outcome of the pilot programs made it clear that this solution met the company's requirements in the vital areas of data-security, acceptance, value, scalability, optimization and workflow management.
CADconform is a genuine enterprise solution for CAD Standards management across both AutoCAD and MicroStation platforms. This solution covers checking, fixing, drafting and reporting against a "flexible" CAD standard with a hierarchy of security and user privileges.
The CAD-Standard resides in a central platform-independent database accessible to either AutoCAD or MicroStation desktops. Embedded security is available to the highest level, as demanded by the nuclear installations.
How to recognize the benefits of Standards-Management? With our technical excellence and real-life experience we will be delighted to bring you to the next step in CAD/engineering data-quality.
---
Chevron Distributes Corporate CAD Environment to Consultants
Chevron relies on Altiva's expertise in creating, training and maintaining a CAD standard and workspace for contractors across AutoCAD and MicroStation platforms. Installation of the workspace is simple for sub contractors using the DeployCAD product. Dan Hare, Engineering Information Management Analyst, expressed "finalizing this important piece of work is a huge milestone and I wish to personally thank you for an excellent piece of work. The final version of the CAD Standard Deployment build has been installed and tested within the Chevron production environment and it is working great - as expected!!!! The DeployCAD build will be formally distributed to all existing ABU CAD standard focal points, now numbering 30 recipients and there will be more in the future."
Contact Altiva about distributing your corporate CAD environment to consultants producing CAD drawings for your projects. Everything from DGN Libs, DWG Templates, and custom line styles, patterns, cell and block libraries in a simple to use, executable product.
---
BHP Billiton, AUS, recommends Altiva technicians to help with conversion from AutoCAD
BHP Billiton, Perth Australia, had 85 AutoCAD design files from a sub-consultant urgently needing approval from the construction office. Not only does BHP Billiton require MicroStation design files, but all files must follow specific CAD graphical standards. Steve Gate, Corporate Montage BHP Account Manager, suggested to send the entire project to Altiva's technicians. Altiva has helped consultants working with BHP Billiton for over 10 years and knows the BHP BIO CAD standard very well. The drawings were completed in 10 days and submitted to the BHP corporate standard within the promised time frame.
Original DWG: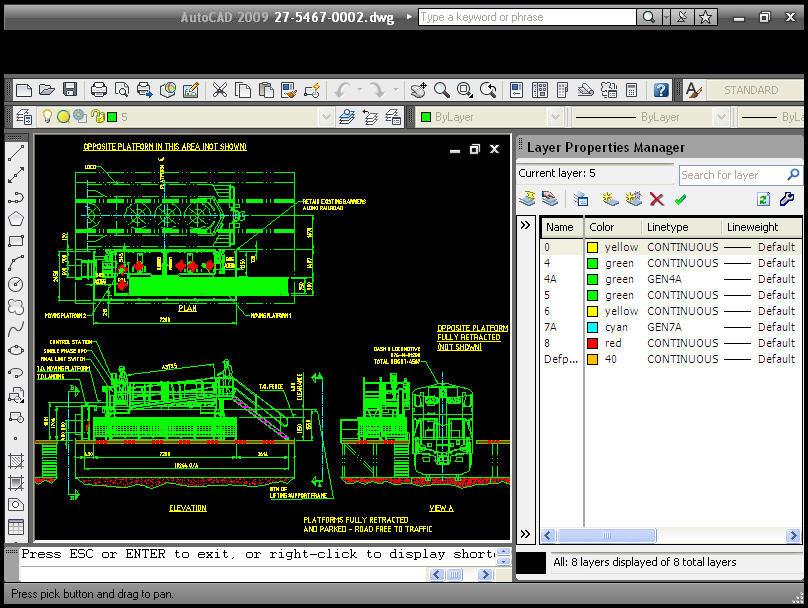 Converted DGN: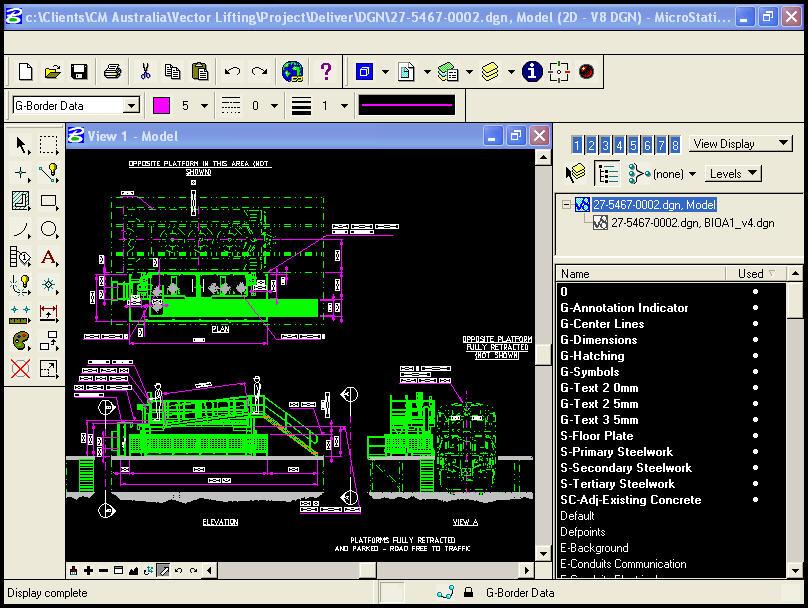 Call Altiva for help with your next file conversion project.
---
Project-based Training ensures time is not wasted
More organizations are now requiring Project-based Training classes using their own project data and drawings. With fewer staff it's very hard to take someone off the project for training -much better to integrate the training class into the project so that real work is being done with on-the-job training.
Altiva Software offers project-based training in MicroStation to provide a practical introduction to the software while still moving the project forward. Thanks to the reduced downtime, and improved project work if the training is carried out at the start of the project, the training will pay for itself very quickly.
Project-Based Training: Benefits at a glance:
Training coexists with project work
Reduced downtime
Realistic, exercises solving real problems
Benefit from the wide experience of our staff
Reduce potential delays to time-critical complex projects
Give us a call with any questions.
---
Altiva Software will once again participate in the annual Mid-Continent MicroStation Community User Conference (MCMC), which will be held August 10th and 11th at the Overland Park Conference Center in Overland Park, Kansas. Altiva Software will be demonstrating CADconform, its flagship software product that promotes and enforces 100% conformance to CAD standards.
Altiva will give a presentation as part of the conference program and have a booth as part of the technical exhibit hall. The program presentation by Business Development Manager Marie Franklyn will focus on how Kansas Department of Transportation has successfully applied Altiva's advanced software technology, ControlCAD, to migrate from paper to digital submissions while streamlining every phase of their workflow including: a) Defining projects specs, b) Distributing the CAD environment, c) Enforcing CAD standards, d) Indexing drawings for Document Management, and e) Compiling the final digital submission.
Since its inception, The Mid Continent MicroStation Community (MC2) has been dedicated to the professional development of its members by providing opportunities for education and information sharing. This two-day conference is devoted to increasing the productivity of our user base, thus increasing profitability.
For more information about the conference, see www.tmcmcmc.org
---

Unsubscribe - Use this link to email us if you no longer wish to receive these emails.